*This sponsored content was provided by the International Workplace Group. (IWG)
The COVID-19 pandemic, social and environmental factors and new technologies have combined to dramatically transform the world of work, changing employers' and employees' views about their occupations and work-life balance. People want the personal productivity benefits of living and working how and where they want and avoiding long commutes. Businesses want the financial and strategic benefits of the hybrid model. Both want workspaces and communities to match their needs.
Put simply, most employers and employees alike can agree on choice and convenience being a primary need.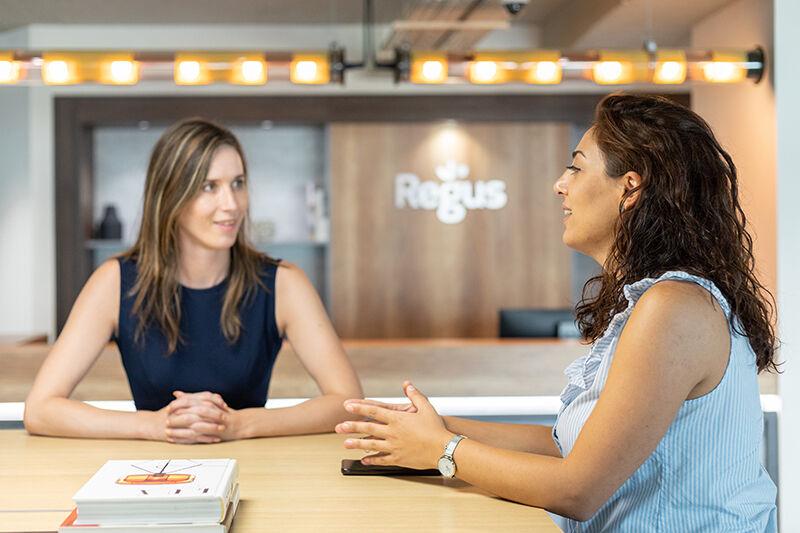 Over the last 18 months, companies across the world have realized hybrid work is here to stay. Businesses of all sizes are listening to the needs of their workforce and embracing the shift to a hybrid model – accommodating work at home, in a local office setting and occasionally at a corporate HQ. In fact, data shows most U.S. companies, including Twitter, Google and Facebook, have permanently adopted a hybrid work model that combines remote working with periodic in-office work. A key factor to enabling a successful hybrid model is adopting and providing flexible workspace for employees. Workspace that offers a professional setup conducive to productivity and collaboration, without the challenges of a long commute or distractions of working from home.
The move toward a hybrid work model using flexible workspace will only accelerate because the concept has quickly become a competitive advantage in terms of hiring and retention strategies. Regus, part of a collective of global and regional workspace brands that form the International Workplace Group (IWG) network, satisfies these demands by providing professional, inspiring and collaborative workspaces, communities, and services.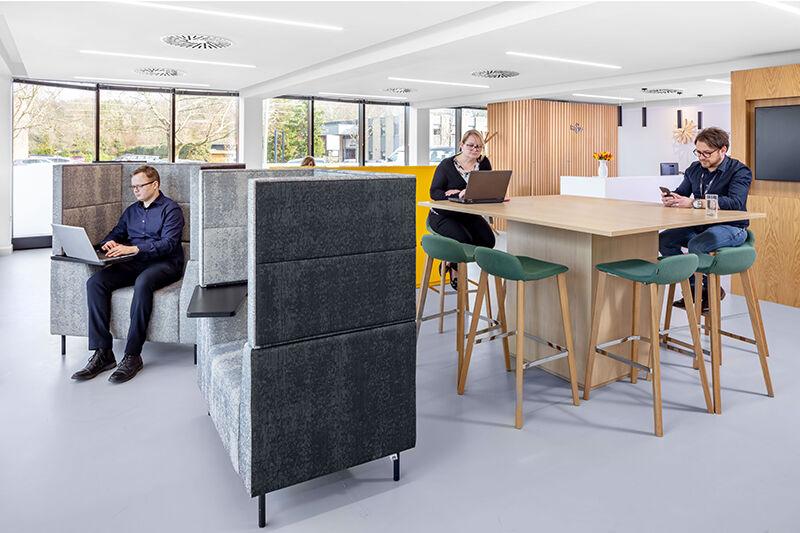 Skyrocketing demand for flexible workspace
Flexible workspace is now one of the most dynamic and fastest-growing industries. Demand for such spaces has grown exponentially, as companies of all sizes have discovered hybrid work is better for people, profit and planet.
Through the first half of 2021, IWG's brands have seen a 350% increase in new locations committed by franchise partners, signing 20 new franchise partners globally, including its first U.S. partner. This year alone, more than 2 million users have joined IWG's network, bringing its total customer base to 7 million and representing the largest increase in the company's 30-year history. As part of this network, multinational corporations like Standard Chartered and NTT minimize their exposure and risk as the world of work changes, while their employees enjoy greater flexibility in their working lives, along with the associated reductions in commuting time and costs.
By 2030, some 30% of all commercial real estate will be flexible workspace[1], and flexible working will be worth more than $10 trillion to the economies of 16 leading countries. With businesses worldwide taking an increasingly flexible approach to where their employees work, partnering with a flexible-office provider can be one of the more promising franchise investments to make today.
Recent research has reinforced the growing popularity of flexible workspace as an investment for franchisees. In the next 18 months, more than half (56%) of business leaders interested in franchising will consider becoming a flexible office partner, topping more traditional franchise industries, such as coffee shops (49%) and gyms (43%).
Across thousands of locations worldwide, Regus offers its franchise partners practical advice on opening new centers in the best locations, finding the right premises and structuring floor plans to maximize revenue, as well as business development support to ensure that investments are performing at optimum levels of return. What's more, franchise partners are also able to leverage the name recognition and established sales and marketing channels of Regus, as an IWG brand.
A worthy investment
With decades of experience, Regus' franchise model is proven with healthy returns that present an accessible, fully supported and easy-to-operate business opportunity. The benefits of partnering with an operator with a track record of more than 30 years of a robust operating model include:
The opportunity to open a tried-and-tested business model in an unsaturated yet high-demand industry
Advice on the best location to open centers
Support finding the right buildings
Help structuring floor plans to maximize revenue
IT and marketing services
Established sales and marketing channels
Business development and business performance review support to ensure the franchise partner's investment is performing at an optimum level of return
The opportunity for growth in the flexible workspace market has never been greater, according to IWG founder and CEO Mark Dixon. "Multiple studies have shown that businesses of all sizes are planning for a hybrid future," Dixon said. "Our own research of the FTSE 100 and FTSE 250 has shown three times the number of listed businesses are looking to use a hybrid office model compared with those looking to carry on in the same way as pre-pandemic. A new center was added to our network every day last month and with the signing of a growing number of franchise partners, we anticipate a greater number of openings as we move into the second half of the year."
Today's rapidly shifting workplace environment means the time is now to partner with the world's leader in flexible workspace and seize the significant opportunity presented with the shift in future of work. Join one of the most dynamic and fastest-growing industries and power the future of flexible workspace through a strategic growth partnership with Regus. Learn more about franchise opportunities here.