Last Year Rank: 66
Investment Range: $306,200 - $716,250
Initial Investment: $25,000
Category: Restaurant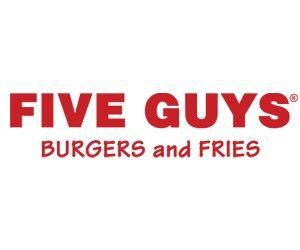 Company Description
Five Guys is a fast-casual chain focusing specifically on burgers and fries. Originating in Washington, D.C., the restaurant is known for using fresh beef and frying its food in only peanut oil.
Founded in 1986 in Arlington, Virginia, by the Murrell family, the company now has locations worldwide including in the U.K. and the Middle East.
Just over half of Five Guys' locations are franchised.
Company Statistics
Global Sales: $2,181,172,628
US Units: 1,436
International Units: 197
Total Units: 1,633
Percent Franchised: 69%
% International Units: 12%
US Franchised Units: 940
International Franchised Units: 183
Sales Growth %: 11.1%
Unit Growth %: 3.4%