Last Year Rank: 15
Investment Range: $121,400 - $1,787,700
Initial Investment: $40,000 - $90,000
Category: Restaurant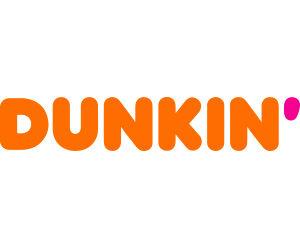 Company Description
Based in Massachusetts, Dunkin' is the largest franchised chain in its category, known for offering donuts and coffee. Its parent company is Dunkin' Brands, which also owns ice cream franchise Baskin-Robbins.
Dunkin' was founded as Dunkin' Donuts in 1950 by William Rosenberg, and now has thousands of locations worldwide in over 30 countries. It was the first restaurant brand in the country to offer an on-the-go drive-thru lane, where rewards members can order ahead via the mobile app and head straight to the pick-up window. Inspire Brands, owner of Arby's, Jimmy John's, and Buffalo Wild Wings, acquired Dunkin' Brands in late 2020.
In 2020, Dunkin' replaced its foam cups with double-walled paper cups. Dunkin' also removed "Donuts" from its company name in 2019 to focus more on beverages and less on the sweet treats.
In the U.S., Dunkin' is sometimes paired with Baskin-Robbins in a single multi-branded store. In 2019, this close relationship culminated in the affogato, an Italian drink sold at Dunkin'-Baskin-Robbins combo stores that features Dunkin' espresso and Baskin-Robbins vanilla ice cream.
Company Statistics
Global Sales: $11,403,438,841
US Units: 9,244
International Units: 3,713
Total Units: 12,957
Percent Franchised: 100%
% International Units: 29%
US Franchised Units: 9,244
International Franchised Units: 3,713
Sales Growth %: 20.7%
Unit Growth %: 2.7%